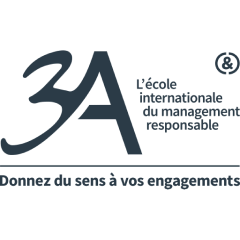 L'école internationale du management responsable
Intègre l'école du management responsable qui t'apprends à concilier activité économique et utilité sociale
Ecole 3A - l'école internationale du management responsable
Depuis 1984, avant l'expertise, avant les techniques, ils défendent des valeurs fortes : l'éthique, la justice, l'égalité, l'ouverture au monde et le respect de notre patrimoine commun, la Terre. Ces valeurs sont au cœur de leurs enseignements en sciences de gestion, en géopolitique, en langues, en développement durable, en économie sociale et solidaire, en anthropologie et en responsabilité sociale.
📍Des campus dans des villes dynamiques et attractives : Lyon, Paris, Rennes et Toulouse 
✅ Des champs d'expertises en : humanitaire et solidarité internationale, développement alternatif à l'international, économie sociale et solidaire, responsabilité sociétale des entreprises et géopolitique.
✅ Des formations en alternance et en initial.
✅ Des formations professionnalisantes en 3 et 5 ans toutes reconnues et certifiées par l'Etat (Visa et RNCP).
Des formations adaptées à votre projet  :
Bachelor en 1 an et en alternance
3e année bachelor gestion de projets alternatifs et solidaires : pour ceux qui se destinent à changer le monde à l'échelle locale, en tenant compte du facteur humain
 
Programme de second cycle (Bac+4/Bac+5)
MSc management de l'innovation sociale : Développer et encadrer les organisations qui apportent des solutions Innovantes
MSc coopération internationale et action humanitaire : Intervenir dans les situations d'urgence et participer au développement des pays en crise
Msc économie solidaire et Finance responsable : Valoriser et accompagner des projets à enjeux durables et responsables, prenant en compte des critères extra-finance

A level +4/+5 program (Full English Program)
Msc international sustainable business development : Co-Construct International Development Projects In Order To Act In Accordance With The Sovereignty Of The Territories

Pour  de futurs managers, désireux de concilier activité économique et utilité sociale, et d'intégrer une organisation dont la mission est de construire un avenir plus juste et plus durable.
Le mot de jobs_that_makesense
Pourquoi on propose cette formation 👇