Each month, we offer you with our partners the appointments not to be missed to help you see more clearly in your professional retraining towards impact.
Meetings with inspiring personalities, information webinars, participatory workshops,... There's something for everyone!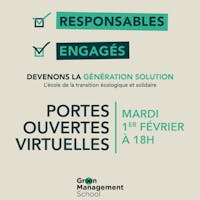 📅Tuesday 02/1/22 - 6 p.m. to 7 p.m.
Green Management School presentation webinar
During this interactive webinar, Audrey PULVAR and Franck KERFOURN present the purpose of Green Management School, its program and its ambitions.
> Join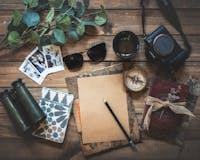 📅Wednesday 2/02/22 - 11 a.m. to 12 p.m.
Starter Pack Workshop - Social Declik
The 5 steps to follow to sign your first mission with a committed company.
Social Declik reveals LIVE great practical advice to sign your first impact mission.
> Join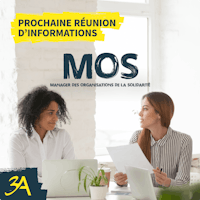 📅Wednesday 2/02/22 - 11 a.m. to 12 p.m.
Solidarity Organizations Manager Program Information Webinar
A good way to find out more about the program, the methodology, the financing, the outlets, the prerequisites... and ask all your questions!
> Join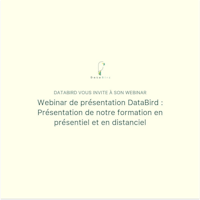 📅Thursday 03/02/22 - 5 p.m. to 6 p.m.
DataBird Program Information Webinar
Discover the data sector, employability in this market, opportunities with Data Bird training!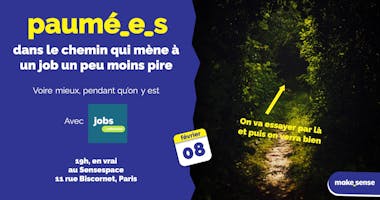 📅Tuesday 08/02/22 - 7 p.m. to 10 p.m.
Conference - Lost in the path that leads to a job a little less worse
Find the lost makesense community around a hot topic: JOB.
A conference with cool people who have hiked the area quite a bit: Fabien Secherre, marketing manager of the jobs_that_makesense platform, and more names to come!
> Join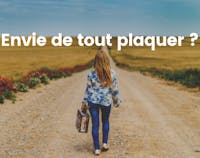 📅Thursday 02/10/22 - 1 p.m. to 2 p.m.
Workshop: the 7 steps to make a successful transition from pro to impact
A 1-hour online workshop to move from confusion to action in your professional transition to impact:
7 tips to start your professional transition with a positive impact
A time for collective intelligence
Presentation of the NOUVEAU CAP support course
> Join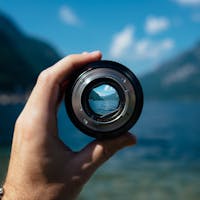 📅Friday 02/11/22 - 12 p.m. to 12:45 p.m.
6 keys to start your impactful professional transition
Join a participatory workshop and leave with the keys to start your positive impact transition, sharing experiences and information on skills assessments and the specificities of Cap Positif
> Join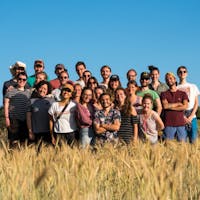 📅Thursday 02/17/22 - 6 p.m. to 8 p.m.
T-Campus Information Webinar
1 hour of discussion to find out more about the training, ask all your questions and discover the testimonies of those who have lived the T-Campus experience!
> Join