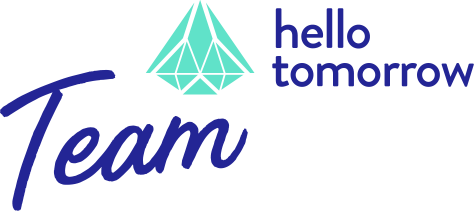 CORPORATE COMMUNITY COORDINATOR
Full-time contract in Paris, from February 2021
Building a collaborative ecosystem that leverages the power of deep technologies to tackle world challenges has been Hello Tomorrow's mission since 2011.
We are looking for a Corporate Community Coordinator who will grow and animate our network of corporate executives and managers as well as developing further new activities offered to the community.
WHO ARE WE AND WHAT DO WE DO IN A NUTSHELL
Hello Tomorrow is a global interdisciplinary community and innovation firm leveraging the power of deep technologies to build a better future for all.
We scout deep tech solutions worldwide —> We power startup competitions worldwide to give innovation a platform. Our biggest competition is the Global Challenge, receiving over 5,000 applications from more than 110 countries.
We build a collaborative ecosystem —> To bring innovations to life we connect all key players—startups, universities, investors, accelerators, and large corporations— through events, competitions, and programs around the globe. This year we are launching and developing new memberships programs for startups, investors and corporates.
We empower corporations & governments —> We provide innovation consulting and services to help corporations and governments leverage the potential of emerging technologies, understanding how they will impact their organization and how they can work with startups to accelerate their business. Within the deep tech solution lab and consulting activity, we help our customers explore new technologies and their use cases. We also partner with them to understand new market or industry dynamics (reports, BtoB events) and to integrate those emerging technologies with more agility (coaching programs, online training).
MORE ABOUT OUR CORPORATE COMMUNITY
We have spent 6 years supporting startup-corporate collaborations, in all industries, which allows us to precisely understand what are the corporate needs when it comes to understanding deep tech trends or finding the right startup to partner with. We've been fostering these collaborations through events to connect startup and corporate and tailor-made services to help them initiate their collaboration from the right feet.
Now we want to go a step further by
sharing on a more regular basis our expertise and the best-practices coming from our community

providing business and collaboration opportunities more efficiently to a wider audience (hundreds of corporate members and thousands of startups)
Therefore we are launching our membership "The Core for Corporate Leaders'' as a core activity for engaging our corporate community all through the year.
ZOOM - "THE CORE FOR CORPORATE LEADERS"
The Core for Corporate Leaders aims at being the content reference to follow deep tech trends & business best practices. It brings together, through webinars and small events, a community of corporate executives and managers.
Who are the community members?
Midsize to large corporations working or willing to work with deep tech startups.

Targeted demographics within those companies are manager-level in the following departments: (open) innovation, strategy, startup relations, in-house incubator/accelerators, R&D, or specific other specific business units.
What's in it for them? They get access via a monthly newsletter to exclusive webinars with return on experience from other business leaders, access to emerging technology trends, ecosystem mapping, peer-to-peer networking, startup-corporate networking…
When will the community be launched? The community will officially be launched with a first newsletter and a first webinar to be organized in February 2021.
WHAT WILL YOUR ROLE BE?
As our Corporate Community Coordinator, you will be constantly collaborating with our Startup & Investor Community team, our Program and Content Manager, our Marketing & Communication team as well as our Business Development team. You will be under the direct supervision of our COO.
Your day-to-day work will look like the following:
1/ Management of the program "The Core for Corporate Leaders" (around 35% of your activities)
Analysis of our corporate members needs and design/iteration on the program and content accordingly.

Definition on a monthly basis of the topics to tackle in the newsletter and the best formats to do so (in coordination with our Content & Program Manager as well as our Event Manager).

Creation and animation of compelling webinars and content for our members (working alongside our Content & Program Manager).

Summarizing key information from webinars in a compelling digest email.

Ensuring regular satisfaction rate of the members.
2/ Grow the community (around 25% of your activities)
Supporting the marketing and communication teams in building materials dedicated to promoting "The Core for Corporate Leaders".

Reaching out to and onboarding new members.

Ensuring that "The Core for Corporate Leaders" is well connected/synchronised with every activity we are proposing to corporates.
3/ Manage the relationships with members and foster business development (around 35% of your activities)
Staying closely and regularly in touch with all members to raise awareness about our offers and services and convert them into clients.

Regularly identifying among members business opportunities and connections for startups that can be shared with our startup community (and especially our Deep Tech Pioneers).

Finding financial partners to sponsor the program/webinars.
4/ Design and operate a viable community of corporates in the long run (5% of your activities during the first months and then more)
"The Core for Corporate Leaders" is the first step towards an engaged and exclusive community of corporates. In the long run, you will also:
Design, test and develop new content and networking activities answering our member's needs.

Find the right business model to sustain our community development.

Improve our processes to adjust ourselves to a growing number of members.
YOUR PROFILE
Experience required & must-have assets you're bringing to the team
At least 3 years of full-time experience.

Good knowledge of the needs of innovation managers from midsize to large companies.

Good general understanding of emerging technologies and how it impacts our industries.

Good knowledge of the startup ecosystem and startup-corporate collaborations.

Successfully built long-term relationships with customers.

Proven track record in selling partnerships or services to companies.

Significant experience in project management.

Excellent communication skills.

Excellent public presentation skills.

Good negotiation skills.

Experience in animating communities.

Experience in B2B content creation is a PLUS.

Outstanding written and verbal communication skills in English. Another language will be a PLUS.

Fluency in G Suite (Gmail, Drive, Docs, Spreadsheets, etc.)
Your working style
You're autonomous, self-disciplined and proactive and don't need too much guidance to get things done.

You are happy to constantly interact with other people in the team.

You're happy to help the team on new projects if needed.

You're a good listener and respect other people's opinions.

You're resilient and maintain focus in stressful situations, with a strong team spirit.

You're a high-energy individual with a sense of humour and ability to work within a fast-paced environment.

You're curious and willing to learn.

You always reflect on your work and like to suggest new ideas to create more value for your company and your clients.
WHAT WE OFFER
At Hello Tomorrow, you will join an international team of 20 young and dynamic people all striving to help make the world a better place with science, in a very positive albeit fast-paced environment!
Obviously a salary and competitive commissions (depending on profile).

Autonomy and independence in your role and work.

A team that is passionate, creative, impact-driven and at the top of their game, in a human-sized organization.

A fast-paced, international, interdisciplinary, inspiring, and collaborative work environment at the heart of Paris (Saint-Lazare at Schoolab).

Very flexible working environment in terms of remote work and hours.

Lunch vouchers and 50% of your monthly public transportation card (Pass Navigo) refunded.

We are also quite happy with our health insurance (Alan).
HOW TO APPLY?