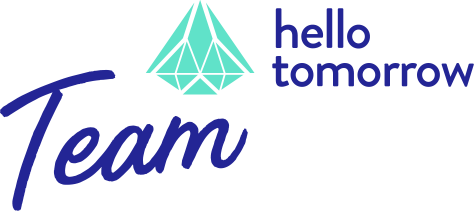 STARTUP CHALLENGE ANALYSTS
2 positions opened :
6-month internship in Paris, starting asap (with an option for a follow-up contract)
3 to a 6-month internship in Paris, starting asap
Today, a new wave of progress is beginning, based on major technological and scientific advances.
Autonomous cars, cancer treatments, 3D printed organs, collaborative robots and much more.
At Hello Tomorrow, we identify and support startups developing groundbreaking deep tech innovations cutting across major environmental and societal challenges, transforming our lives. Their projects are based on technologies that have great promise for the future but which require several years of R&D. This increases the needs and challenges facing startups: large capital investment, expertise and special talent, support for industrial applications and marketing strategies for their innovations.
It is a matter of urgency therefore that favourable conditions be created to support deeptech entrepreneurs and accelerate technology transfer.
We are looking for two Startup Challenge Analysts who will help us find, evaluate and support these deep tech startups.
Who are we?
We are a global organization on a mission to unlock the potential of deep technologies to help solve some of the world's toughest challenges (societal, environmental and industrial).
We identify deeptech solutions, empower the pioneers who drive them and bring together a community of actors who believe that science and advanced technology can contribute to shaping a better tomorrow.
Our Global Challenge and Deep Tech Pioneers community: the right springboard for deep tech entrepreneurs looking for visibility, funding and the right connections worldwide.
Global Summit and events around the globe: exclusive events in 11 countries involving our community of science-entrepreneurs, large corporations, investors and researchers, to inspire scientific and business leaders, and foster business connections
Consulting & Corporate Innovation Programs: help corporates leverage the potential of emerging technologies, understanding how it will impact their organization and how they can work with startups to accelerate the transfer of impactful solutions from lab to market.
Deep Tech Observatory: we identify and analyse innovation trends and dynamics leveraging experts and data in our network and share the results with our community.
The Global Challenge
The Global Challenge is the most exclusive worldwide deep tech startup competition. For its 6th edition in 2019-20, more than 5,000 entrepreneurs applied from 119 countries.
We avoid selecting pointless apps and social media analytics tools here — we prefer flying cars, space taxis, breakthrough medical treatments or handheld scanners to detect fake drugs. Projects that actually make the world a better place.
There are at least 3 rounds to select the finalist startups and it involves a different jury at each step, including panels of scientists, entrepreneurs, investors and influential industry partners. We evaluate each project on the technical aspects, the market, the team and the potential impact of the project.
1/ What do we offer startups?
Funding
€100K Grand Prize for the best early-stage startup

€50K for the runner-up
Visibility
80 finalists pitch during the Global Summit in front of 400 curated stakeholders

12 winners pitch on the main stage (audience of 600)

Meetings and articles with the media (BBC, Le Monde, Financial Times, etc.)

Showcase opportunities during the Global Summit (3,500 attendees)
Connections
Access to the Global Summit (meetings with hundreds of corporates, VCs, accelerators, mentors, etc.)

Access to the annual Investor Day with 200+ worldwide investors
We provide them with continuous value before, during and after the competition.
We strive to design the best experience possible for hundreds of startups all over the world participating in the competition. So we need to constantly improve the value proposition of our Challenge and build a seamless journey for them.
2/ Timeline
Startups will apply to the Global Challenge between March and June 2021.
The evaluation and finalists selection process happens between June and September 2021.
The Finals take place during the Global Summit, our yearly international event in Paris in December 2021.
What will you do?
As the Startup Challenge Analyst for Hello Tomorrow Global Challenge, your day-to-day work will look like the following:
Source the best deep tech startups

from around the world and

convince them to apply

to the Global Challenge. You'll be looking for the most disruptive technologies, scraping data from the web and contacting the most promising deep tech entrepreneurs to promote the competition.
Support startups

before and during the Challenge. As the main point of contact, you'll be liaising first with entrepreneurs to support them in filling out their application form and later, to help them prepare for the Global Summit and make the most of the competition.
Help us organize the juries and selection process

and

take part in the first round of startup evaluations

(depending on your expertise and background). You'll be going through hundreds of exciting projects, sorting out the most outstanding and impactful ones and helping prepare the whole evaluation process with hundreds of jury members involved.
At Hello Tomorrow, you will join an international team of 20 young and dynamic people all striving to help make the world a better place with science, in a very positive albeit fast-paced environment!
What will happen after the internship?
At the end of the internship, if everything goes well, we will offer a short term contract (CDD) until the end of the year, allowing you to further support the selected startups until the Finals happening during the Global Summit in Paris in December 2021.
Depending on opportunities and capabilities, we are usually eager to consider long-term contracts (CDI) afterwards. We are always looking for team members to join us for the long run and 25% of our current team actually started as interns!
Who are you?
You are deeply fascinated by and passionate about science, technologies and innovation

You have a technical, scientific or engineering background

You're forthcoming and good at convincing people

You're very well organized and rigorous

You're autonomous

You're tech-savvy

You're willing to take initiative

You're very curious

You have a strong belief in getting things done!
Your talents!
Good understanding of scientific, engineering and/or technical subjects

Native English speaker or fully fluent in English

Very good communication and negotiation skills

Good understanding of the

deep-tech ecosystem

Fluency in G Suite (Gmail, Drive, Docs, Spreadsheets, etc.)
What do we offer?
Compensation of €1,000 per month

An opportunity to discover cutting-edge technologies to solve real-world problems, as well as the greatest minds in deep tech!

A team that is passionate, creative, impact-driven, and at the top of their game

A fast-paced, international, interdisciplinary, inspiring, and collaborative work environment

Restaurant tickets (meal vouchers applicable in restaurants and grocery stores)

Open-space office environment in the heart of Paris and option for temporary remote working when needed