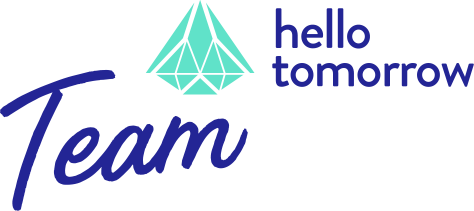 HEAD OF BUSINESS DEVELOPMENT
Full-time position (CDI) starting asap
You will be responsible for structuring an efficient sales department in coordination with the Business Units and the Marketing and Communication department, lead our sales processes end-to-end and contribute to the continuous improvement of our offers. You will also be supervising one junior employee.
WHO ARE WE?
Hello Tomorrow is a global organisation dedicated to leveraging deep technologies to solve world challenges. Partnering with universities and research labs we identify early-stage startups and empower them through our Global Challenge. We connect these pioneers with industry, investors, researchers, and regulators through events in over 10 countries. We also provide innovation services to help companies understand deep tech trends, work with startups, and be more agile.
WHAT DO WE DO IN A NUTSHELL
We scout deep tech solutions worldwide —> We power startup competitions worldwide to give innovation a platform. Our biggest competition is the Global Challenge, receiving over 5,000 applications from more than 110 countries.
We build a collaborative ecosystem —> To bring innovations to life we connect all key players—startups, universities, investors, accelerators, and large corporations— through events, competitions, and programs around the globe.
We empower key stakeholders from the ecosystem —> We provide innovation consulting and services to help corporations and governments leverage the potential of emerging technologies, understanding how they will impact their organization and how they can work with startups to accelerate their business.
WHAT WILL YOUR ROLE BE?
You will be responsible for structuring an efficient sales department in coordination with the Business Units and the Marketing and Communication department, lead our sales processes end-to-end and contribute to the continuous improvement of our offers. You will also be supervising one junior employee.
1/ RESTRUCTURE AND MANAGE A SALES DEPARTMENT
Define with one of the general managers the overall objectives of a sales department, monitoring of its performance and validation with the directors

Work with the Directors to set sales goals on a monthly, quarterly, and annual basis.

Develop tools and put in place the necessary processes to ensure the smooth running of the sales department and its connection with the marketing department and business units.

Define and put in place a sales strategy focused on both financial objectives and customer satisfaction.

Manage, coach and lead a team of salespeople (one person to start with, who will be focused on lead generation and qualification).
2/ MANAGE SALES CYCLES
Redesign the leads' and customers' journey, in coordination with the marketing team.

Build, manage relationships and close the sale of our offers (Global Summit partnerships, Startup challenges, Turnkey collaboration programs and tailor-made services) with large companies, governments and other organizations.

Animate the sales routines with the marketing department and business units around clear planning and objectives.

Create and update commercial presentations/proposals.

Support the marketing team in the creation of promotional materials (content creation, webinars and other promotional tools).

Track sales goals and report results as necessary.

Participate in sharing our best sales practices to our international hubs with the support of our international coordinator.
3/ CONTRIBUTE TO THE CONTINUOUS IMPROVEMENT OF, (AND/OR REDESIGN OF) OUR SERVICES
Continuously collect and analyse feedback and opinions from our clients regarding our services.

Share feedback with the respective teams designing our offers.

Identify market opportunities and contribute to the creation of new offers.
4/ MONITOR CLIENT RELATIONS
Put in place a follow-up process, and optimisation of our commercial relations in collaboration with the respective service and projects teams.

Be a key point of contact for client relations.
YOUR PROFILE
EXPERIENCE REQUIRED
At least 5 years of sales experience (services, consulting &/or partnerships), with a focus on sales to senior executives at large organizations.

You build a sales team/ department or had an important role in building it.

Skilled at recognising and seizing opportunities, and understand the business requirements of senior decision-makers.

In-depth knowledge of sales techniques related to B2B services.

Proven track record in designing and implementing a sales strategy.

Successfully built long-term relationships with customers.

Successfully created and scaled demand for a brand-new solution or service.

Already coached sales representatives to higher performance.

Proven track record in selling complex services in the €50 000 to €500 000 range.

Responsible for sales quotas above €500K/ year.

Significant experience in an account management role.

Already managed and coached sales representatives.
THE MUST-HAVE ASSETS YOU'RE BRINGING TO THE TEAM
Excellent presentation and negotiation skills.

You're a good listener and respect other people's opinions even when you strongly disagree and are also able to defend your own ideas.

You are happy to constantly interact with other people in the team.

Outstanding written and verbal communication skills in French and English.

Ability to thrive in unstructured, fast-paced, ever-changing environments.

Ability to analyse and synthesise complex client requirements and needs.

You're autonomous, self-disciplined and proactive and don't need too much guidance to get things done.

You're a high-energy individual with a sense of humour and ability to work within a competitive marketplace.

You're resilient and maintain focus in stressful situations, with a strong team spirit.

You're deeply interested in deep tech and how it impacts our industries and our lives.
WHAT WE OFFER
Obviously a salary and competitive commissions (depending on profile).

Autonomy and independence in your role and work.

A team that is passionate, creative, impact-driven and at the top of their game, in a human-sized organization.

A fast-paced, international, interdisciplinary, inspiring, and collaborative work environment at the heart of Paris (Saint-Lazare at Schoolab).

Flexible working environment in terms of remote work and hours.

Lunch vouchers and 50% of your monthly public transportation card (Pass Navigo) refunded.

We are also quite happy with our health insurance (Alan).
HOW TO APPLY?
Apply by filling our form : (http://hellotomorrow2019.typeform.com/to/UG7O1keO)

If your profile fits with the job description you will have 4 main interviews (with the directors and team members you would work with) and a case study.