We are recruiting a person in gardening animation / communication in the association - Lyon
Notre but est de faire redécouvrir aux urbains les liens que l'on peut créer avec la nature et grâce à la nature.
Graines Urbaines did not yet communicate its impact measurement.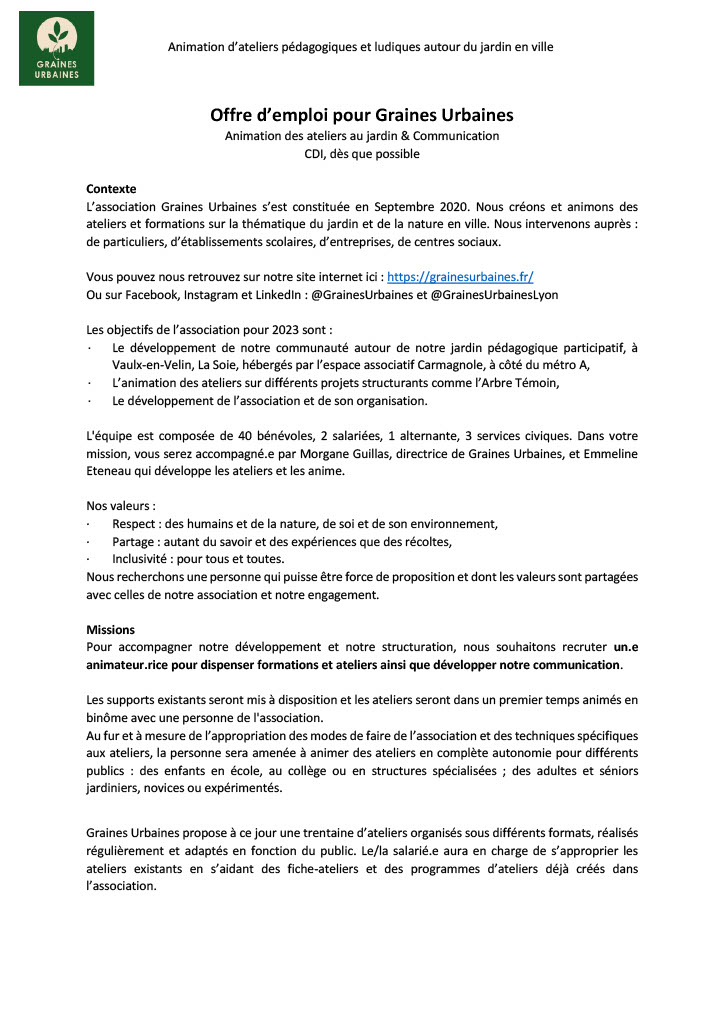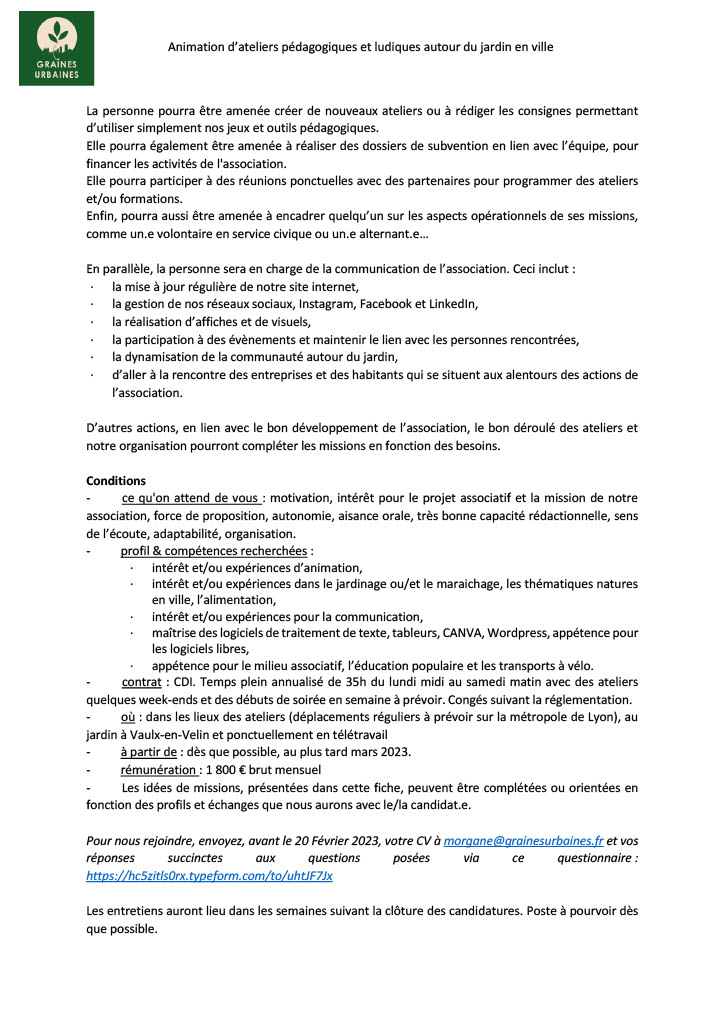 Pour accompagner notre développement et notre structuration, nous souhaitons recruter un.e animateur.rice pour dispenser formations et ateliers ainsi que développer notre communication. Les supports existants seront mis à disposition et les ateliers seront dans un premier temps animés en binôme avec une personne de l'association. Au fur et à mesure de sa formation et de son appropriation des techniques, la personne sera amenée à animer des ateliers en complète autonomie pour différents publics : des enfants en école, au collège ou en structures spécialisées ; des adultes et séniors jardiniers, novices ou expérimentés.
La personne pourra également être amenée à réaliser des dossiers de subvention en lien avec l'équipe, pour financer les activités de l'association. Elle pourra aussi avoir à créer de nouveaux ateliers ou à rédiger les consignes permettant d'utiliser simplement nos jeux et outils pédagogiques.
Enfin, elle pourra participer à des réunions ponctuelles avec des partenaires pour programmer des ateliers et/ou formations. En parallèle, la personne sera en charge de la communication de l'association.
Ceci inclut : · la mise à jour régulière de notre site internet, · la gestion de nos réseaux sociaux, Instagram, Facebook et LinkedIn, · la réalisation d'affiches et de visuels, · la participation à des évènements et maintenir le lien avec les personnes rencontrées, · la dynamisation de la communauté autour du jardin, · d'aller à la rencontre des entreprises et des habitants qui se situent aux alentours des actions de l'association. D'autres actions, en lien avec le bon développement de l'association, le bon déroulé des ateliers et notre organisation pourront compléter les missions en fonction des besoins.
Featured articles
Discover all the resources to inspire and guide you in the world of positive impact. Testimonials, analyses, job descriptions and skills of tomorrow, everything you always wanted to know without daring to ask.
The professional retraining guide
You no longer thrive in your work, and you plan to change profession to find more meaning in your professional life? Discover the resources to help you think about a retraining project and find your way.
>

>

We are recruiting a person in gardening animation / communication in the association - Lyon - Long term - Awareness animator - Ecology - 01-31-2023